About Workgroup Calendar for Microsoft OUTLOOK® 2000/2002/2003/2007
Workgroup Calendar is a downloadable personal software application that allows creation of a group calendar folder from Calendars existing in your Microsoft Outlook and automatic synchronization of their contents. You can create as many group calendars as you want and combine the shared calendars with your personal ones in one group. You can create or change appointments and other calendar events in the group or in any of the combined/merged calendar folders and all changes will be automatically and instantly synchronized. Viewing all your calendars in one convenient place is a perfect addition to the existing Outlook functionality and multiple Calendar view in Microsoft Outlook 2003 and 2007, which simplifies group calendaring and scheduling.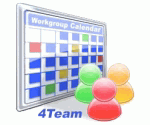 You can use Workgroup Calendar with any sharing synchronizing tools for Microsoft Outlook like ShareO, ShareCalendar, Sync2 or other tools from other developers.
We would like to extend a special "thank you" to many customers in the USA, United Kingdom, Australia, Belgium, Germany, Switzerland, France, Singapore, and other countries that implemented our programs for their everyday business needs: from personal and family use for synchronizing and sharing purposes, to solutions for Medical and Law Offices, Religious Services, technology or software production companies.

© 2003-2016 4Team Corporation

Workgroup Calendar web site